Top Brand Design Trends For 2021
Many companies pride themselves on staying ahead of the competition, on standing out from the crowd, whether that's in regards to product offerings, marketing strategies, constantly speaking out on the hot topics within their industry or anything else. But when it comes to their design & branding, trends are often overlooked as companies are reluctant to stray away from their generic brand guidelines.
While it's understandable to have a clear & consistent brand identity, it is also important to stay updated with the emerging trends in brand design and evolving your company with them.
It is said that, "Your brand is what other people say about you when you're not in the room." Branding and designing plays an important role in building a brand image that leaves a lasting impression on customers in a highly-competitive market. Successful Branding will lead to increase in sales as well.
At Kern Culture, our designers work with clients across industries, which gives them a great insight into what's trending in the design world. In 2021, they think these are the brand design trends we can expect to see more of this year: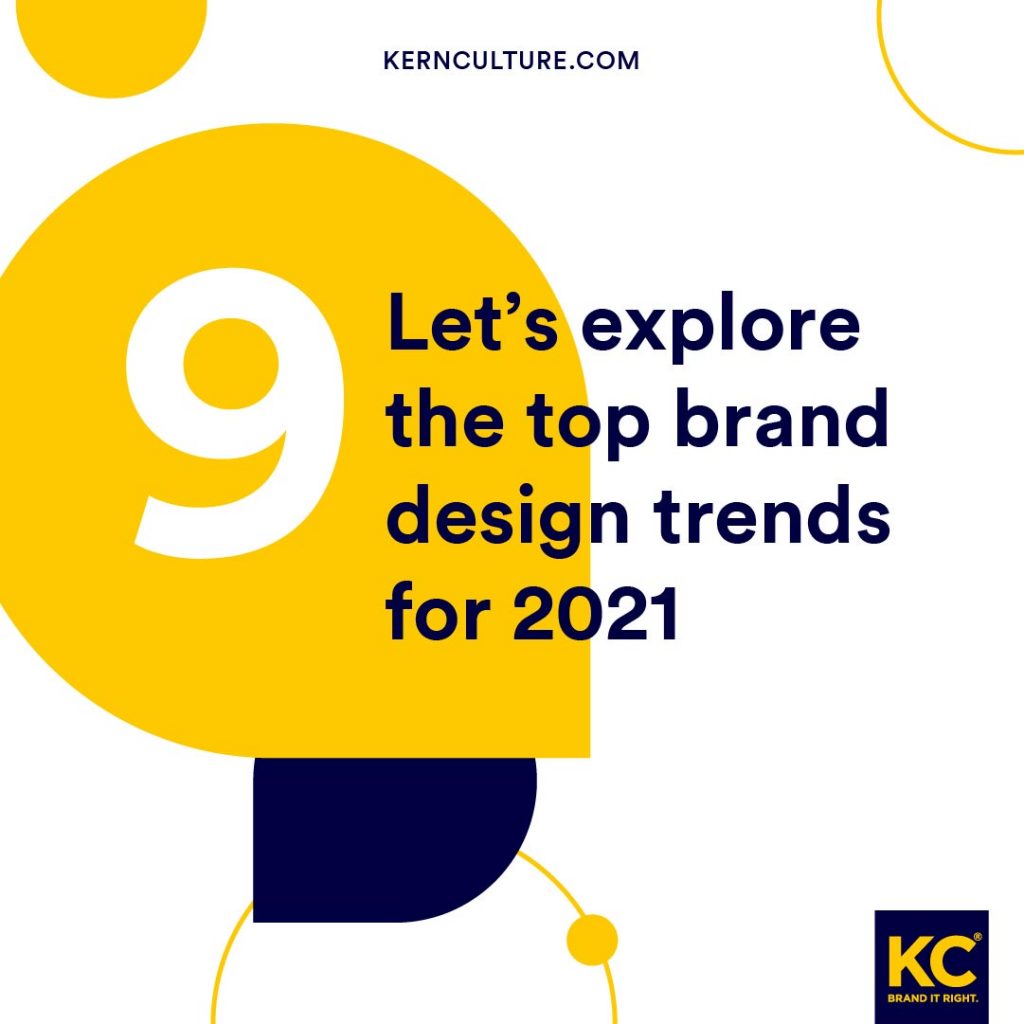 Muted Colours: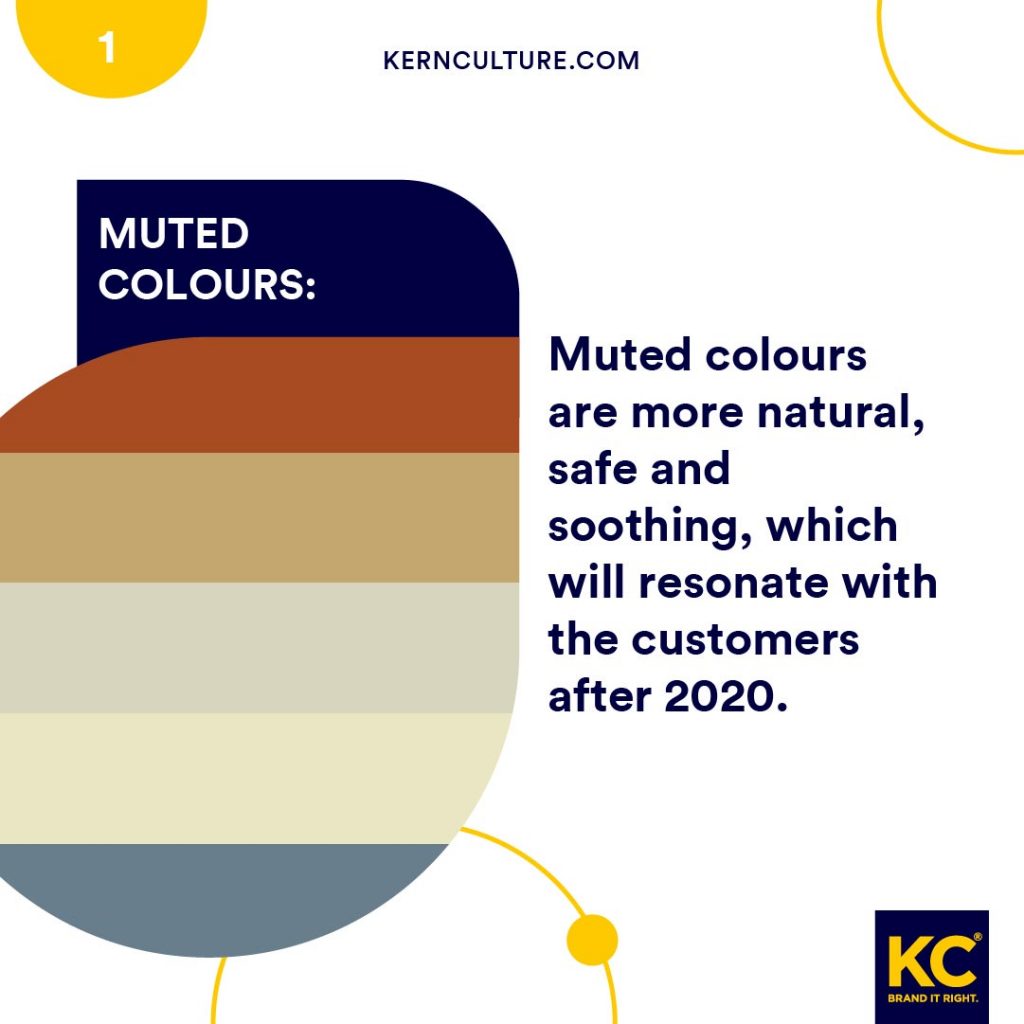 Choosing colour combinations can be challenging at times- you have to be very decisive in choosing the ideal colour combination in order to make your vision come to life.
The coronavirus outbreak has changed our outlook towards the world, and in the process has given a fresh lease of life for muted colour. Brands are favouring muted colour palettes as opposed to the neon colours to provide a feeling of safety and reassurance to the consumers. Muted colours are more natural, safe and soothing, something that will resonate with the customers in the post-covid world.
Asymmetry: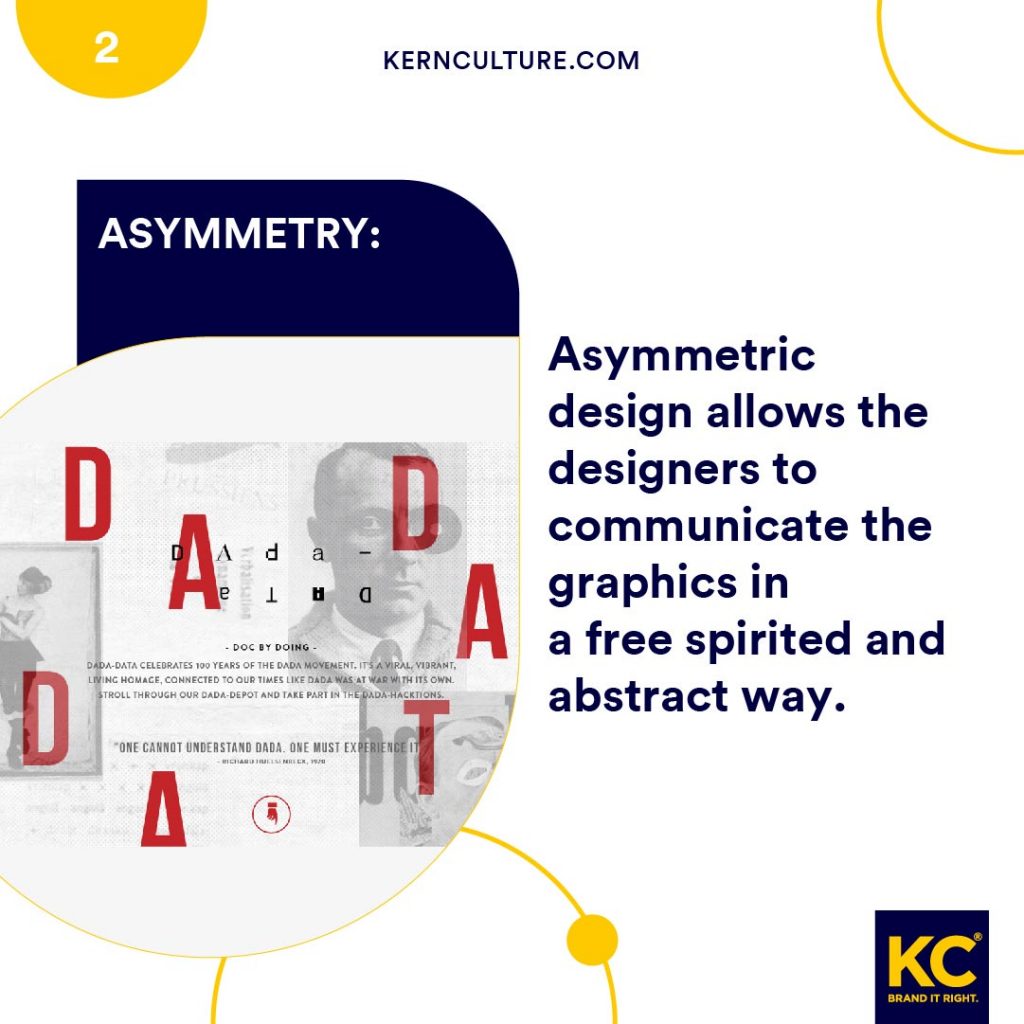 Asymmetric design allows the designers to communicate the graphics in a free spirited and abstract way. Unlike grid format, Asymmetric design allows designers to play around with graphic elements and create more white space.
Abstract Data Visualization: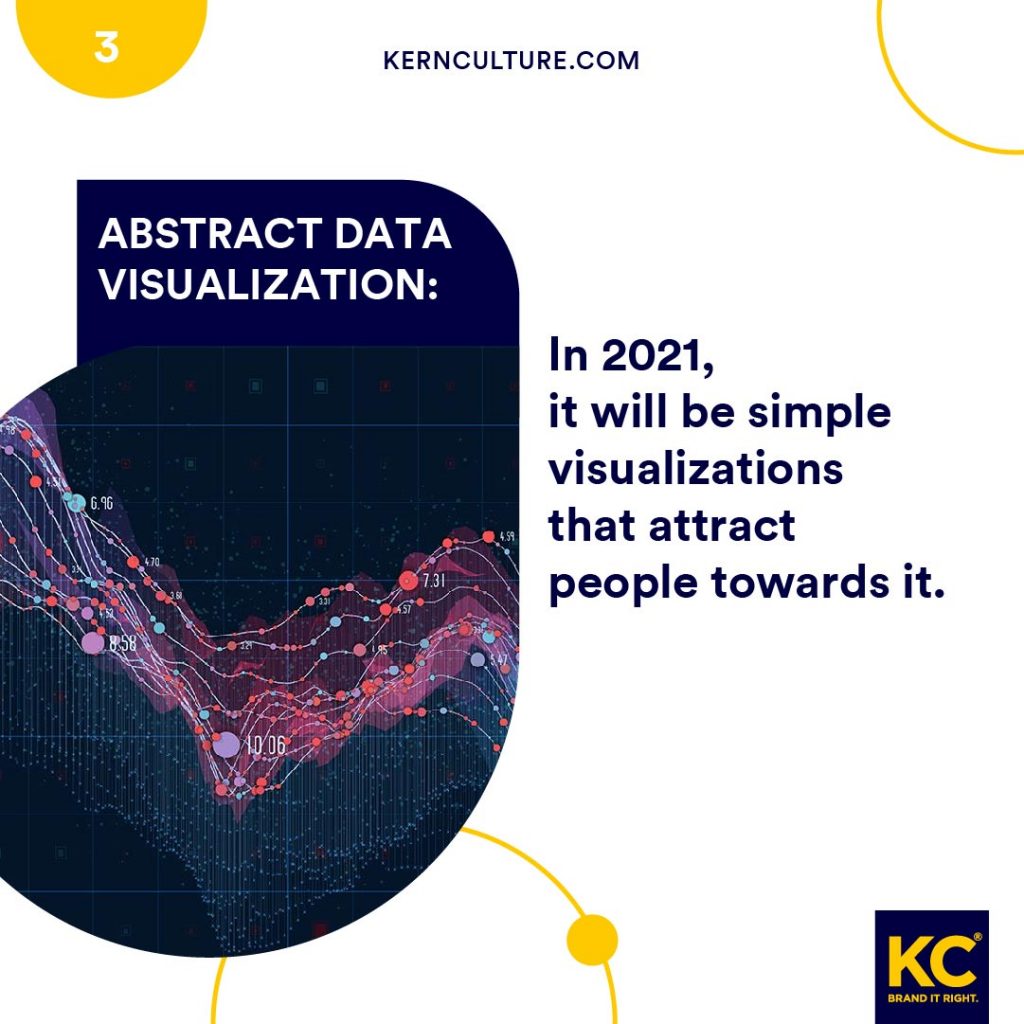 Tables, graphs, lists, databases and other formats are outdated today for designing an interface. To replace that Abstract Data Visualization can be the solution of the websites and it is a good way to reflect creativity and depth. It is one of the emerging UI/UX designs in 2021.
Flat Icons and Illustrations: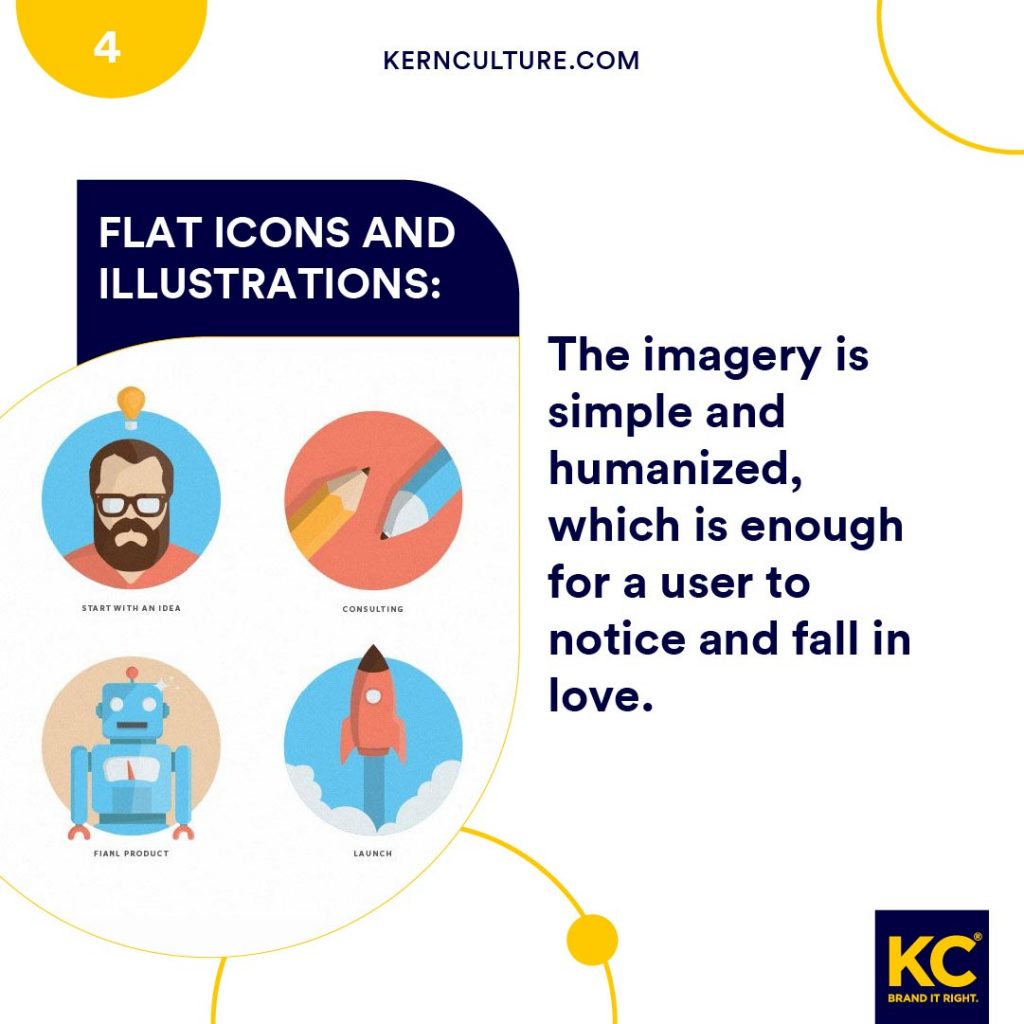 Flat Icons and Illustrations were very popular until 3D elements took the designing world by storm. Now we are seeing its resurgence in 2021 as a design trend. While much of the attention on flat design has evaporated, icon design is still pretty flat. This is likely due to the simplistic nature of flat design and the idea that this look can be integrated with a number of other styles fairly easily.
Simple and Classic Fonts: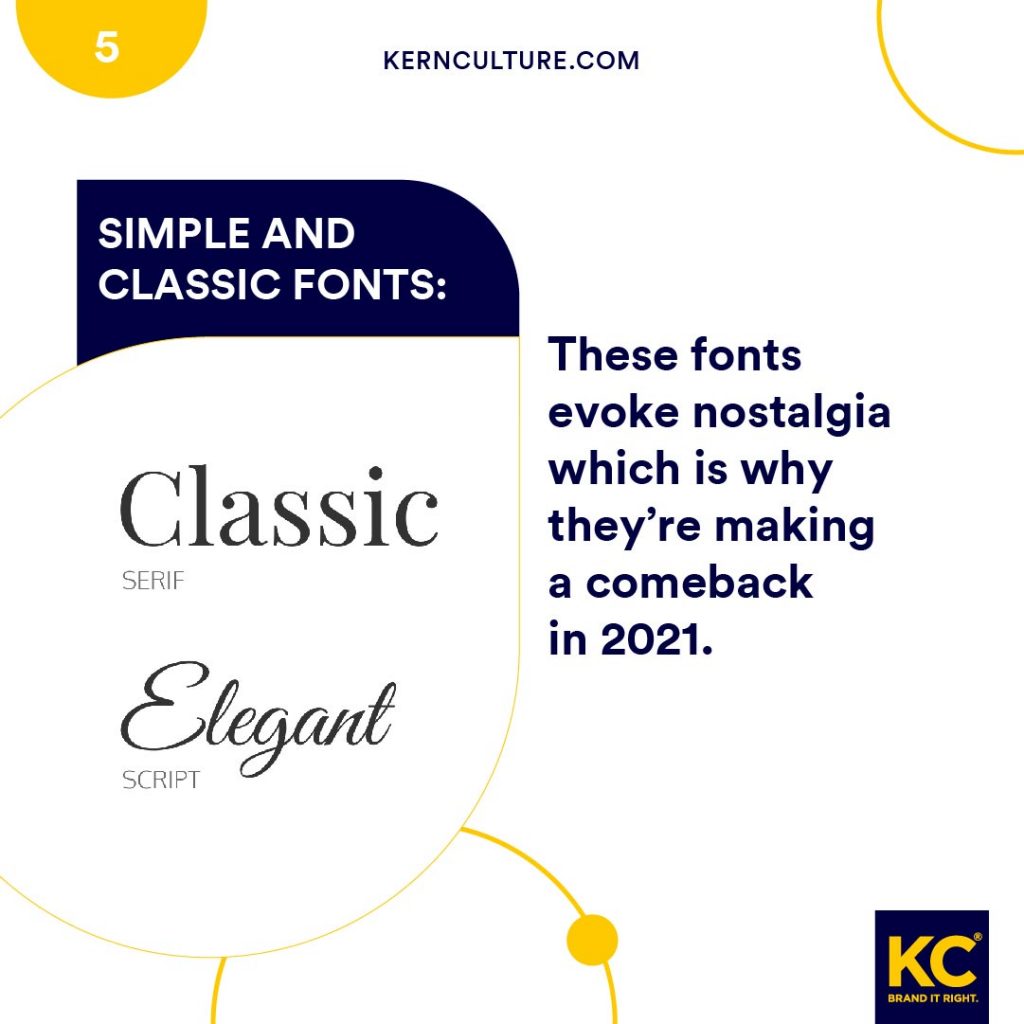 The more we go into the future, the more appealing the past gets. That's true of fashion, interior design, and yes, graphic design. So, it's no surprise that in 2021 we'll see lots of fonts that are simple and trying to recapture the past.
Using a simple font can make a logo or package design look elegant and serious. Simple fonts evoke nostalgia and create a sense of trustworthiness which is why they're becoming popular again. If you want to bring a classic touch to the modern world, this style is definitely for you.
Motion Logos: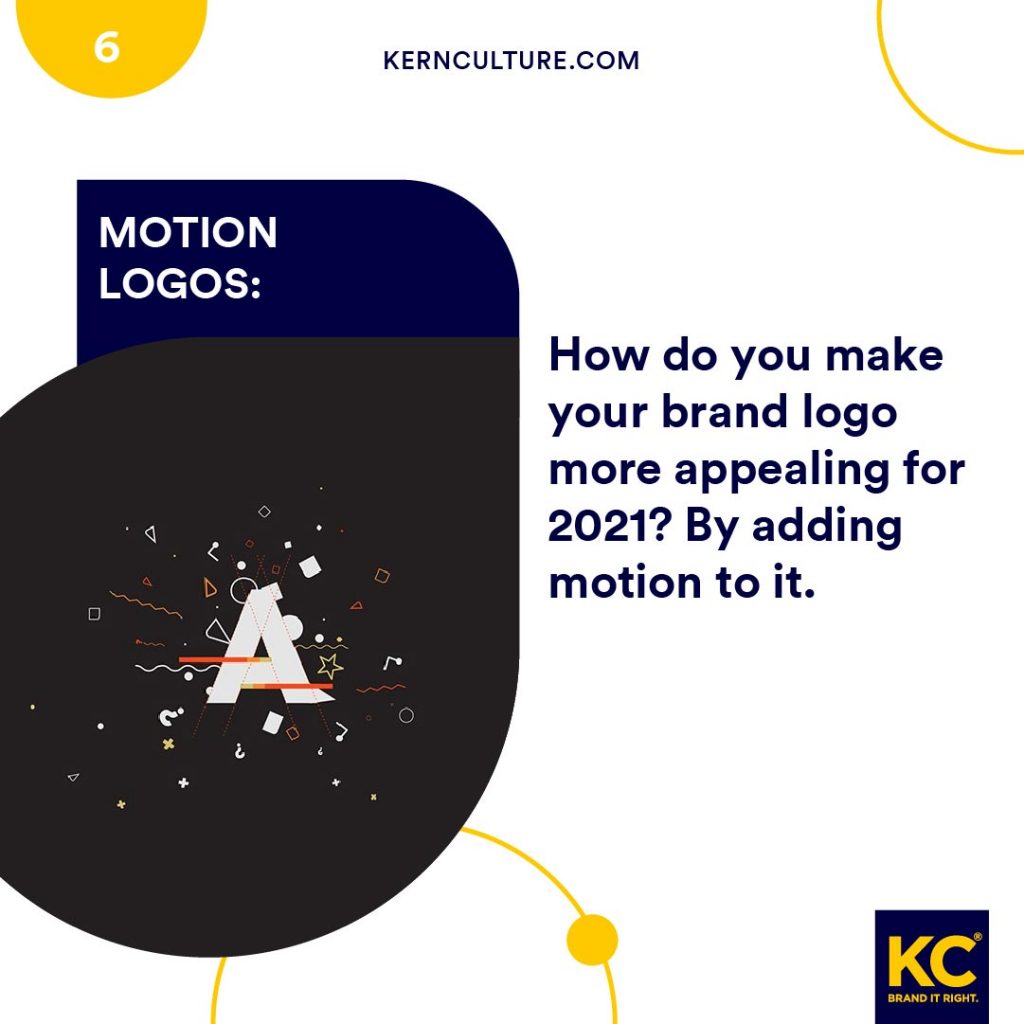 How do you make your brand logo more appealing for 2021? By adding motion to it.
In a world dominated by content, brands ultimate focus is customer retention. The longer customer stays on your page, the more likely he is to connect with your brand. The same concept applies to logos as well.  Motion logos remind customers that a brand is more than just a product or a service: it is a living object.
Overlapping Designs:
Creating depth using overlapping elements is another up-and-coming 2021 brand design trend. This is most successfully achieved using a combination of shapes, colours, photos and typography. A well-designed overlapping design improves audience engagement. Use of blur is also being used to create depth and separation from the page. Overlapping elements also help a user's eye flow down a page. Proper management of overlapping elements is one of the most important trends to look out for.
Geometric Shapes: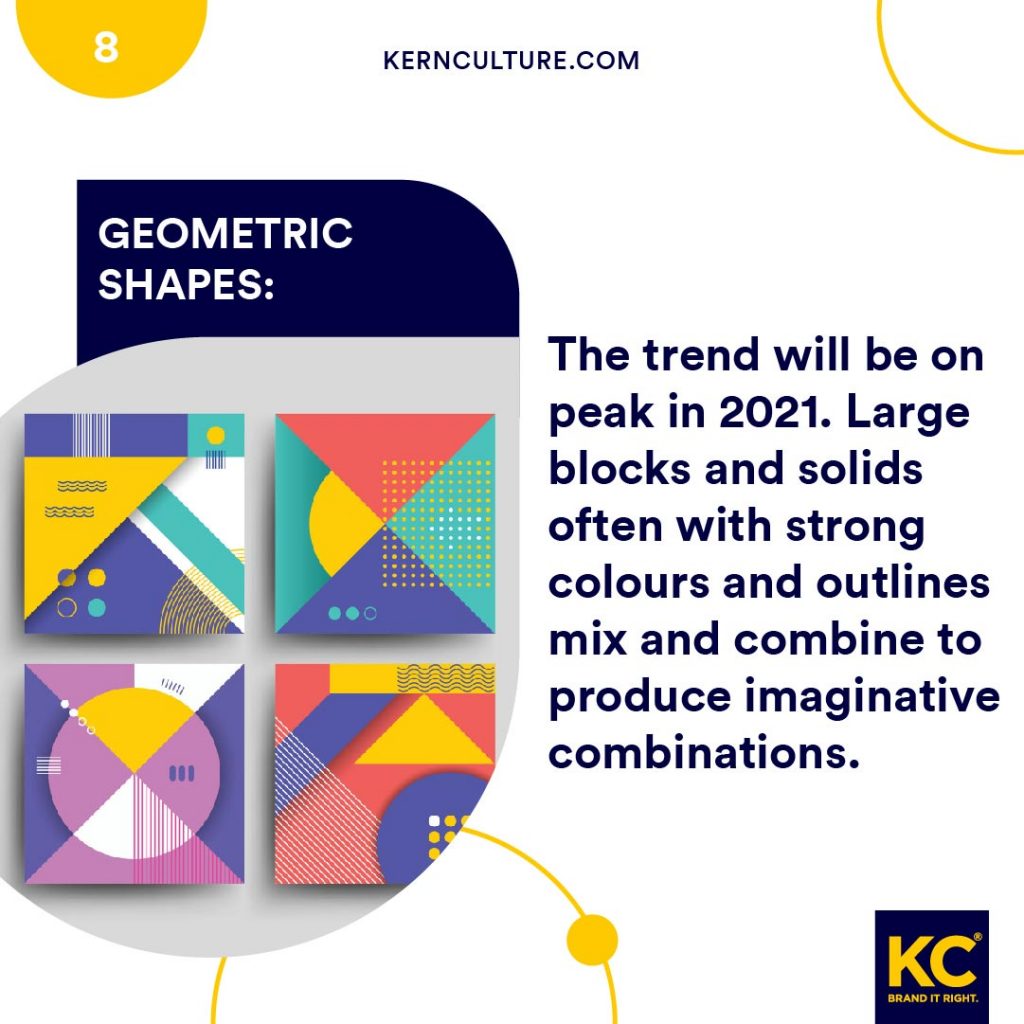 This trend will be on its peak in 2021. The idea of using individual shapes to create larger and more complex ones. Large blocks and solids often with strong colours and outlines mix and combine to produce imaginative combinations. These shapes are easier to create, and also establish consistency across a brand's visual content.
9.Social media decks: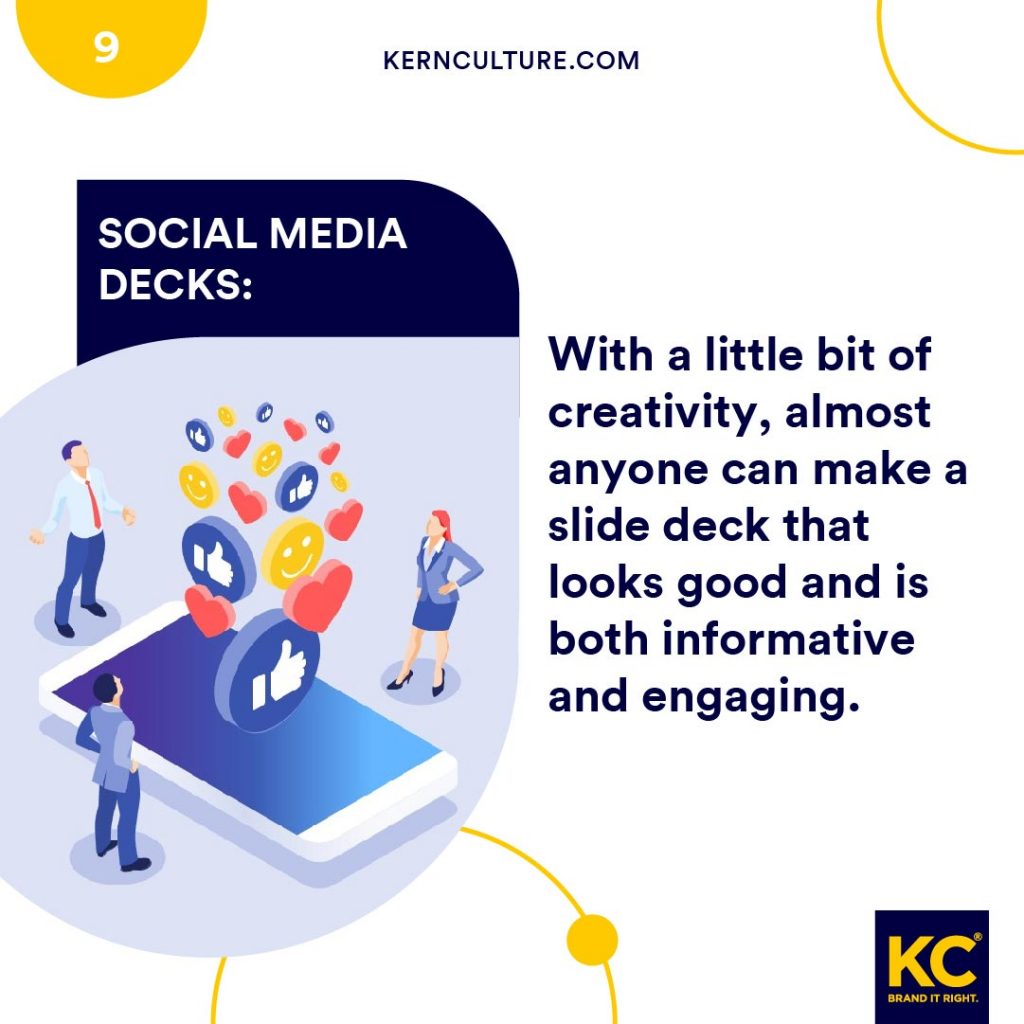 Social media decks are an incredible source for generating information without actually realizing how much ground you've covered or the volume of new knowledge you've taken in. Slide decks can be both informative as well as engaging. Social media platforms like Instagram and LinkedIn are seeing success with these slide decks, and both platforms have adapted their algorithms to boost this type of content. It's a great way of sharing content while improving website number as well by asking users to click on the link in bio.
Conclusion:
Most of the brand design trends we are seeing in 2021 is a result of the coronavirus outbreak in 2020. The past year has wreaked havoc in people's lives. Brands have the power to bring back hope and the lost smiles to their customers. They need to adopt design principles that spread positivity, assure their customers, give hope and one which creates a sense of belonging.
Did we miss any brand design trends that will dominate in 2021? If so, do share them in the comments section below.
Visit our social media pages & don't forget to follow Kern Culture for more useful tips and digital solutions.