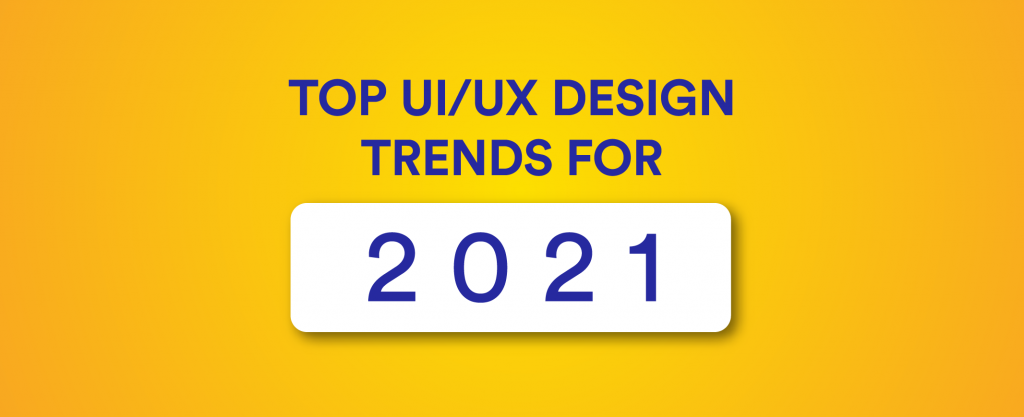 2020 was a challenging year by all means. The COVID pandemic left its mark all over the world but not in a good way. It impacted industries ranging from travel to education to healthcare and much more. It's natural that its impact will stay in 2021 as well. But it's often challenging years like these that bring out the best in people and teach us to change things for the better.
New crop of UX/UI designs appears every year, as is the way with trends. But when the majority of the brands/ businesses start to leverage from the trend, it naturally becomes unproductive because of the overcrowding. The rapid growth of information and technology influences design trends every year. Designers need to be constantly updated and find new sources of inspiration and better tactics for improving your designs. You need to educate yourself, and should be aware of the current market in order to be up to date with the latest trends. Here are the top 8 UI/UX trends that will shape 2021 along with the possible challenges.
ID Authentication:
Modern trends in UX design include password less authentication. This method enables logging into an app, mobile or a computer system without entering a password. Data Security is the biggest concern today and hack attacks and data thefts are on the rise. Therefore, fingerprint sensors and facial unlock features have become an integral part of UI design in apps. It also provides an opportunity for users who tend to forget their passwords. ID Authentication helps build trust, helps brands reduce frauds and risk while also reducing friction for their customers.
Device Synchronization:

This trend intends to form a connection with all your electronic devices and allow the gadgets to behave as one system. It allows users to sync most of their gadgets easily which will prove beneficial in their day-today lives.
2021 could well be the year of wearable technology. Your audience is not only using mobile, laptop or tablet, but also about your smartwatch and other wearables. Your UI/ UX design trend should be focussed on all these gadgets which provides them a flawless experience.
Dark Mode:
Dark mode has become so popular over the last few years, and is not only a favourite among designers but among the users as well. It looks very elegant, stylish and modern. One of the things that makes the Dark Mode stand out is that the white text on a dark background looks bolder than the black text on a white background. It is also very easy on the eyes and removes screen fatigue. For the people who read or view a lot of content or those who are addicted to their mobile screens, this trend is the ultimate solace that won't affect their eyesight too much.
Minimalism:
In simple words, Minimalism means nothing more & nothing less. It is about showcasing the most necessary elements or features and getting rid of the unnecessary features. A landing page doesn't need too many things on it to draw attention. Minimalism helps you declutter the landing page, and keeps visitors focused on the elements that make an impact on conversions. Bold colours & in your face fonts are a thing of the past & won't work in the future.
3D Development:

In 2021, 3D elements will become even more popular, owing to the high demand for AR and VR technologies. Brands are looking to offer immersive experiences to their users by integrating 3d designs into their applications and websites. 3d designs provide a certain depth to any image that it brings users an experience closer to the real world. This helps the user experience to be more engaging and informative.
Motion Graphics:

It is a well-documented fact that visual data is being shared a lot because of the rise of social media. It is easier to comprehend and saves a lot of time as well. Motion graphics takes the concepts of graphic design into the realm of video. They add another dimension to overall look and feel of the product. Graphic design tools like Photoshop & Illustrator make it possible to infuse elements of space and time into UI/ UX designs.
It is also very important to not to overdo the use of motion graphics because at the end of the day you are selling a service to your client. Therefore, you need to keep it simple.
Voice user Interface Interaction:

In this day and age, it can be really hard to get away from screens. 'Screen Fatigue' is at an all-time high. Therefore, the focus has shifted from visuals to voice.
Voice UI is one trend that certainly will dominate in 2021 & beyond. Giants like Facebook, Amazon, Apple either have or are working on introducing voice-based devices.
As per studies, 41% of US adults already use voice commands on a daily basis, which can exceed 50% in 2020. The best feature of using Voice UI is that it eliminates the requirement for a graphical UI, and elevates the user experience of your website or application. Voice assistance and smart home devices like Alexa that talk to people are already becoming common. And as people get used to technology that speaks to them, the voice-based search is going to become more vital.
Low Contrast Gradients:

This 90s trend is about to take the design world by storm. It is not only just about mixing any two colours; it is also about adding depth to designs. Simply put, it is about blending from one colour to another colour. One can't even imagine how much can be conveyed by implementing just a simple gradient in your design or logo. The best thing about gradients is that they are very versatile and can be used for any design medium you are looking for.
Conclusion:
Make the best of these UI and UX design trends and create strong and capable products that work for your brand.
Did we miss any UI/ UX trends that will dominate in 2021? If so, do share them in the comments section below.
If you are looking for a UI/UX design agency to implement all your needs and requirements, don't look further than Kern Culture.
Visit our social media pages & don't forget to follow Kern Culture for more useful tips and digital solutions.