We design and build brands that sustain
We create efficient communication channels and valuable experiences which help you gain awareness of where you stand, who you are and what you can do
Culture is the determining factor when reinforcing your brand with employees and customers alike. Ergo, we help our clients kern their culture and bring their brand's purpose to life
OUR APPROACH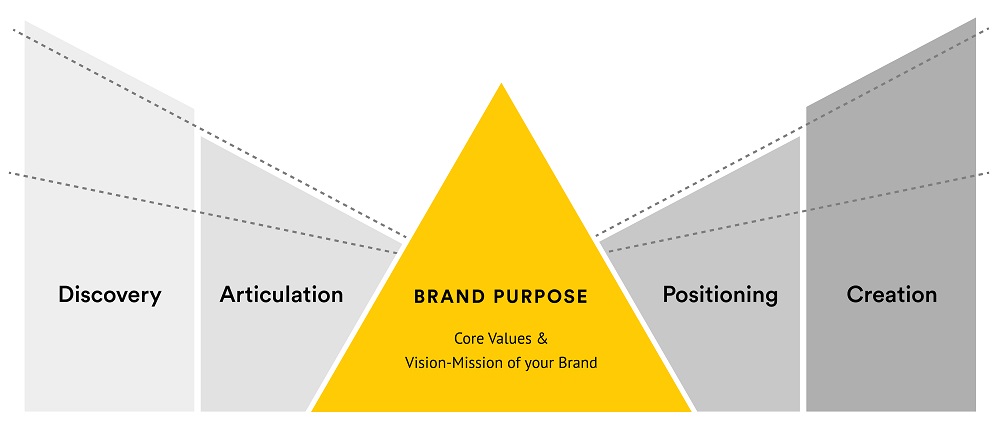 Discovery
The discovery phase helps us understand the current environment of your company, the corporate history and culture, the industry atmosphere, competitor landscape, the reason for being (mission), and plans for the future (vision).
Articulation
We distill the collected data and context into relevant words and strategy to articulate values and corporate personality attributes into real words and strategic statements.
Positioning
We define a new brand thought, your unique value proposition: what makes you, you. We highlight your niche, your strengths, what you can mean to your customers, and what sets you apart from the competition. These ultimately guide your outreach in a way that remains true to your brand.
Creation
We build descriptive and strategically aligned creative assets and execute them through various touchpoints. The distinctive visual style and copy tone are all cohesive to your values and brand personality. Our strategies are built around seamless research & analysis combined with persistent communication.
Analysis
User Behaviour
Experience
Design Research
Ethnography
Trends & Forecasting
Market Analysis
Benchmarking
Opportunity Mapping
Positioning
Brand Idea
Nomenclature
Brand Positioning
Brand Architecture
Brand Management
Innovation Consulting
New Market Strategy
Content Writing
Design
Experience Design
Design Language Systems
Brand Identity
Responsive Web
Native Applications
Retail Environments
Brand Manuals
Packaging
Marketing
Campaign Development
Communications Planning
Media Planning
Content Strategy
Performance Marketing
Social and Influencer Marketing
Measurement and Reporting
Testing and Optimization
Communication
Marketing Campaign Collaterals
(ATL/BTL/Digital)
Annual Reports
Films and Animation
Publication Design
Merchandise
Special Environments
Signage
Employer Branding
Our Niche
A company that is loved by its customers must also be loved by its employees. That's why, in addition to the range of corporate branding services we offer our clients, we've also added employer branding services.
Through this we can help you create a culture that employees will love within your company. You will find that not only will you attract top-talent, but your attrition rate too will drop.
If you want your company to become an employer of choice,
email connect@kernculture.com